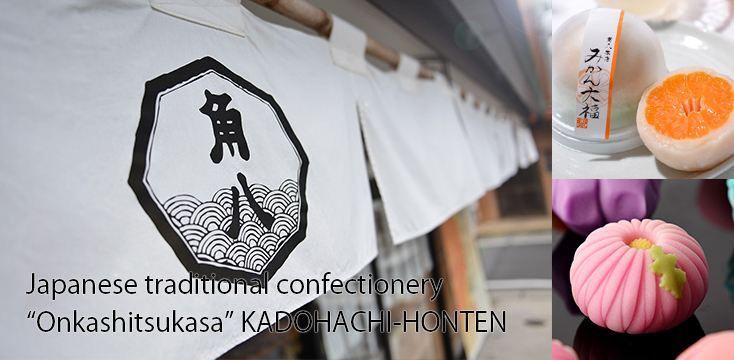 About "Onkashitsukasa" KADOHACHI-HONTEN
"Onkashitsukasa" KADOHACHI-HONTEN was established in mid-Edo period (18th century), in the old town of Tamasaki Shrine, which is known as Kazusanokuni-Ichinomiya, named for the upper portion of the region.
We have been making our confectioneries with a sense of responsibility toward its history and long tradition.
Up until now and from now on, we will continue making our best effort to earn our customers' trust by providing confectioneries and services rooted in the local community.
We greatly appreciate our customers for always giving us continuous support.
Please stop by at our shop if you visit the town of Ichinomiya, which has many attractions, such as Tamasaki Shrine, Kujukuri Beach, seaside-resorts, and Tsurugasaki Beach, one of the best surfing spot in Kanto area etc.
Shop information
Shop name:

"Onkashitsukasa" KADOHACHI-HONTEN
Tel:

+81 (0) 475 42 2068
Fax:

+81 (0) 475 42 8168
Shop Hours:

7am-6pm (Closed on Thursdays)
Address:

3012 Ichinomiya, Ichinomiya-machi, Chousei-gun, Chiba, 299-4301 JAPAN
*Along National Route 128.
*At the corner of Tamasaki Shrine intersection.
*5 minutes walk from JR Kazusa Ichinomiya Station.
Past and Present of KADOHACHI-HONTEN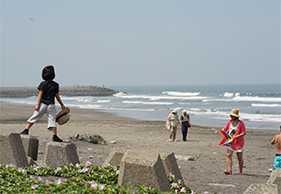 KADOHACHI-HONTEN is in Ichinomiya, located at the southernmost part of Kujukuri Beach, and in the eastside of Boso peninsula in Chiba prefecture. It is a town full of nature, with abundant sunshine, magnificent sea, and mountain greens. Furthermore, the shell mound and other ruins unearthed from this area indicate that human settlements have existed in Ichinomiya since the ancient times, from Jomon-Yayoi Period.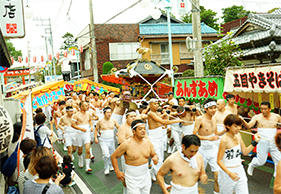 The name of Ichinomiya was derived from Kazusanokuni-Ichinomiya, the status given to Tamasaki Shrine meaning the most prestigious shrine of the region. Tamasaki Shrine was well respected by the Imperial Court, local ruling families and feudal lords during Heian period, and has been continuously worshiped for over 1200 years. It has become the centerpiece of Ichinomiya. One of our signature confections, "Kazusa Hadaka Matsuri" was inspired by "Kazusa Junisha Matsuri (Kazusa 12 Shrine Festival)", the yearly held festival on Sep. 13 at Tamasaki Shrine.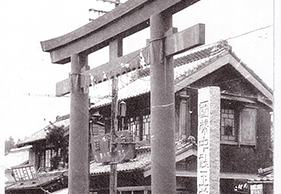 Due to its geographical advantages, Ichinomiya began to attract commercial trading activities in the beginning of Edo period. This increased the traffic of people and horses, and led to the establishment of commercial district in the town. Around 1790, powerful fishery persons prospered by seine fishing, and at the same time, various types of commercial activities became active, and consequently the town prospered as a castle town. KADOHACHI-HONTEN is said to have started its business in mid to late Edo period at the current location, and it has a history of about 150 to 180 years as a Japanese confectionery store. (based on historical records of Ichinomiya as of the 2017) Ichinomiya developed and flourished as one of the greatest commercial district of Chiba prefecture, for being a major foothold of carriage transport along current National Route 128, which lasted until late Meiji period.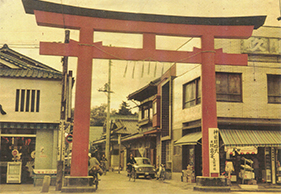 From mid Meiji to early Showa period, Ichinomiya became a resort town and was called "Eastern Oiso". Prominent persons such as Makoto Saito, Yusaku Uehara, Tomosaburo Kato, Kiichiro Hiranuma, Hisayoshi Kano, and Masatoshi Okouchi held their villas in this area. Moreover, Ryunosuke Akutagawa, a famous writer stayed in Ichinomiya twice, in 1914 and 1916 (3rd and 5th year of Taisho period). Our KADOHACHI-HONTEN's "Kujukuri Sembei" was made by Miyoshichi Komoda, the owner of the period, at the request of one of the many intellectual visitors in those days, Koutaro Shida, and it is continued to be the signature confection of Ichinomiya even today. "Eight picturesque sights of Ichinomiya" by a Japanese painter, Hanko Kajita, and "Nanyu Zakki" by the sinologist, Gonsai Asaka are printed on the confection, which narrate the history of Ichinomiya.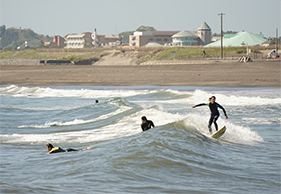 In recent years, Ichinomiya town is continuously developing as a commuter town to Tokyo, as the Kazusa Ichinomiya Station is conveniently located at about 60 minutes by limited express train, and 90 minutes by rapid train from Tokyo Station. The town also attracts surfers all through the year, as it is known as one of the greatest surf destination in Japan. The Prefectural Road 30 along the coast, commonly called Kujukuri Beach Line, has many surf shops and restaurants along. After being officially announced that 2020 Tokyo Olympics surfing event will take place at Tsurugasaki Beach, the town is becoming even more vitalized as a surf town. One of our popular confections, "Ichinomiya manju" has the vermillion "torii" gate and a surfer printed on the package, which illustrate the features of the town.
"Taste of JAPAN by ANA Chiba" ・Ichinomiya "manju" will be served in the business class in-flight meal for international flights. (Availability: June - August 2017)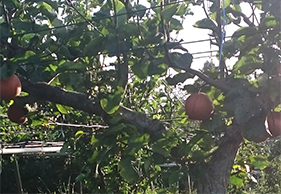 "Nagaiki" brand fruits and vegetables, including "Nagaiki Melon", "Nagaiki Tomato", and "Nagaiki Pear" are local specialty products of Ichinomiya town. They are product of persistent effort of their producers and the temperate climate of southern Kujukuri. Some of our confectioneries, including "Nagaiki jelly", are made using these local prides.